Why get a DSCR loan in Arizona?
Arizona has been an epicenter of home price appreciation over the past few years.
In fact, the Phoenix area has seen year-over-year price growth of more than 20% since March 2021, according to Case-Shiller.
If you're looking to build your Arizona real estate portfolio to take advantage of the unrelenting popularity of the state, a Debt Service Coverage Ratio (DSCR) loan could be a valuable tool.
With no income verification required, DSCR loans could supercharge your real estate investing strategy.
Submit your DSCR loan scenario.
What's in this article?
How do DSCR loans work?
With a DSCR loan, the lender uses the property's income to qualify, not your personal income.
Investors with complex returns or who don't show enough income on their returns could still be approved. This loan also works well for W2 employees who don't earn enough income for a traditional rental property loan
If an investment property's revenue "covers" the debt payment (hence the name), the loan might be approved.
Low DSCR rates
Flexible guidelines
Specializing in DSCR, Fix & Flip, Construction, Bridge
Make-sense underwriting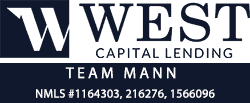 DSCR loans and other investor options
Self-employed, full-time and newer investors

AL, AZ, CA, CO, FL, HI, ID, IA, KS, ME, MI, NH, ND, OR, TN, UT, WA
How is DSCR calculated?
Lenders talk about DSCR in decimals. For instance, a property that brings in 25% more income than is required for the payment has a DSCR of 1.25 or 1.25x.
Here's how you calculate DSCR:
DSCR = Income / Payment
Example:
Property A has $2,500 in rental income and a $1,900 payment.
DSCR = $2,500 / $1,900
DSCR = 1.31
Most lenders look for at least a 1.25 ratio, so this property is a good candidate for a DSCR loan.
How to determine income
For residential properties, income equals all monthly rental income. For commercial properties, net operating income, or NOI, is used. NOI is the annual income less expenses such as management, repairs, and other costs.
For this post, we'll mostly focus on DSCR loans for residential 1-4 unit homes.
How to determine the payment
The payment you should use in your DSCR calculation is the total of the principal, interest, taxes, insurance, HOA dues and other dues or fees. For residential properties, do not include things like utilities, management costs, or other costs not directly related to the monthly payment.
Example: How higher rent can improve DSCR
| | | |
| --- | --- | --- |
| Income | Payment | DSCR |
| $2,500 | $1,900 | 1.31 |
| $2,600 | $1,900 | 1.37 |
Example: How lower payment can improve DSCR
| | | |
| --- | --- | --- |
| Income | Payment | DSCR |
| $2,500 | $1,900 | 1.31 |
| $2,500 | $1,850 | 1.35 |
What is the minimum DSCR to qualify in Arizona?
Some DSCR lenders are quite flexible on your debt service coverage ratio. The standard, however, is 1.25, meaning the property brings in 25% more income than is required for the payment.
The excess income shows that you can make the payment on the property even if you don't have other sources of income.
Some lenders allow a DSCR of just 1.0 or even 0.75 – the latter meaning the property loses money each month. In these cases, though, you may need to prove your income.
Get a personalized DSCR property analysis here.
DSCR loans Arizona: how to qualify
Many buyers realize that DSCR loan requirements are easier to meet compared to those for traditional loans. Full-time investors who don't show high income on their tax returns – or those with complex returns – skip the hassle of providing income documentation.
Loan-to-value (LTV): Typical maximum loan-to-value is 75-80%, meaning you need 20-25% down to purchase a home.
Credit score: Most lenders require a 640 score, although some need a higher score depending on the scenario. A few lenders go down to a 620 score.
Recent credit events: Some lenders allow recent credit events like bankruptcy or foreclosure. Check with the lender for their guidelines and extra requirements.
Loan purpose: Home purchase, refinance out of another loan, or tap into equity with a cash-out refinance.
Property types allowed: DSCR loans are generous about property types. Single-family residences, 2-4 unit homes, 5+ unit apartment buildings and other commercial buildings are eligible.
Property use: Because these loans are based on property income, you can only use them for investment properties with current or projected rental income.
Loan type: Fixed-rate, adjustable-rate, and interest-only.
Income and employment: No personal income or employment is verified, even for W2 employees.
Maximum loan amount: Typically $1-2 million, but up to $5 million with some lenders.
Maximum properties owned: DSCR lenders typically do not cap the number of properties you can own or finance.
Prepayment penalties: Some DSCR loans come with prepay penalties based on a percentage of the loan amount. Make sure you'll have the home and loan long enough to avoid paying the penalty.
Closing in the name of an LLC: You can close in the name of an LLC or an individual.
Seller paid closing costs: Usually allowed up to some percentage of the loan amount.
Get started on your DSCR loan approval.
DSCR mortgage rates Arizona
Mortgage rates for this program are typically 1-2% higher than for traditional Fannie Mae and Freddie Mac loans. Because they are no-income-verification loans, they come with additional risks to the lender, for which they charge higher rates.
But many real estate investors find that these loans are worth the extra cost. Sometimes this program means the difference between qualifying to buy the home or not.
5 best areas to invest in Arizona
According to Clever Real Estate, the top five Arizona cities to buy a rental property are:
1. Phoenix: No surprise here. Despite recent home price growth, the area is still relatively affordable for real estate investors, says Clever.
2. Scottsdale: With a great combination of long-term residents, tourists, and high rents, investors are sure to find a winning property in the city.
3. Tucson: An affordable yet growing market where rents are high but home prices are still affordable.
4. Tempe: Home of Arizona State University, this area is much more than a college town, offering many opportunities for investors.
5. Prescott: According to Clever, Prescott has a good mix of professional and student residents, offering residential and commercial rental properties.
The best place to invest, though, is a place you know the best and are comfortable with. Find your niche in a certain area and certain type of property, become an expert, and dominate that market.
5 tips for real estate investors in Arizona
1. Research state and local tenant law. Know how much you can collect for a security deposit, when to return it, what you have to disclose to the tenant, and more. Every state has a long list of tenant laws and it's your responsibility as a landlord to know them (or hire someone who does).
2. Consider professional management. A great management company can free you up to focus on investing, as well as keep you out of legal hot water by complying with state laws to the letter.
3. Decide between short- and long-term rentals. Arizona offers fantastic opportunities for traditional landlords as well as Airbnb, VRBO, and other vacation rental owners. Traditional and vacation landlording come with pros and cons, so do your research on which suits your business and personality better.
4. Focus on cash flow. Cash flow will not only help your DSCR loan approval chances, but it will protect you as an investor. Arizona home prices have gone up so quickly that investors should think twice about counting on future appreciation to make a deal work. Cash flow will help you ride out periods of slower appreciation and put money in your pocket each month.
5. Seek mentorship. Do you know someone who is a successful Arizona real estate investor? Ask for a 30-minute lunch. Join a local real estate investor's group. You'd be surprised how much more you can learn from someone else in five minutes versus days or months of research on your own.
FAQ
How do I qualify for a DSCR loan?
Find a property with positive cash flow, preferably one that brings in 25% more income than its proposed payment. Most DSCR lenders do not require personal income verification in that case.
Do DSCR loans require an appraisal?
Yes, DSCR loans require a traditional property appraisal to determine value and a Fannie Mae 1007 (appraiser's professional rental income analysis). The 1007 tells the lender the property's earning potential and will be on the "income" side of the DSCR calculation: DSCR = Income / Payment.
Are DSCR loans available in Arizona?
Yes, there are many lenders to choose from when considering an Arizona DSCR loan. Start your lender search here.
Can I get an Arizona DSCR loan as a W2 employee?
Most lenders allow W2 employees to get DSCR loans if they and the property meet other requirements.
Is a DSCR loan right for you?
Investors who want to build an existing Arizona portfolio, or start one, will love the DSCR loan.
With no tax returns or personal income verified, it can speed up the approval process.
Submit your DSCR scenario here.