Why get a DSCR loan in California?
When it comes to real estate, it doesn't get any bigger than California.
The Golden State has long been a favorite of investors due to its fast appreciation and lofty rents.
But with high values come large mortgage payments – payments that are often hard to qualify for using personal income. And, as an investor, you might not have two years' tax returns anyway.
The Debt Service Coverage Ratio (DSCR) loan bypasses the need for personal income documentation and uses the property's income to qualify.
Ready to give your California real estate portfolio a boost? Learn about the DSCR loan.
Submit your DSCR loan scenario.
What's in this article?
The DSCR loan explained
The DSCR loan leverages the situation where a rental property's income is higher than its payments.
The income "covers" debt payments and other costs associated with owning the home.
Because the property pays for itself, the lender does not need personal income verification like two years' tax returns and W2s. Many investors don't show much income on tax returns and can't qualify for a traditional loan, so the DSCR loan is a solid solution.
Low DSCR rates
Flexible guidelines
Specializing in DSCR, Fix & Flip, Construction, Bridge
Make-sense underwriting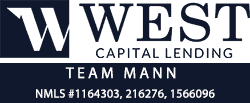 DSCR loans and other investor options
Self-employed, full-time and newer investors

AL, AZ, CA, CO, FL, HI, ID, IA, KS, ME, MI, NH, ND, OR, TN, UT, WA
How is DSCR calculated?
Calculating DSCR is relatively easy, especially for residential properties. You just need the income and full monthly debt payment.
DSCR is expressed in decimal format such as 1.25 or 1.25x. A property with a 1.25 DSCR produces 25% more income than the full payment.
Here's to calculate DSCR:
DSCR = Income / Payment
How to determine income for DSCR
For residential properties, income is simply the monthly rent amount. For commercial properties, it gets a little more complex, but for this article, we are focusing on residential properties.
How to determine the payment for DSCR
The payment in the DSCR calculation includes the principal, interest, proerty tax, insurance, and HOA dues if any.
You can take the yearly figure for income and payment, or keep it simple and determine the monthly amount for each.
Here's how higher rent can improve the debt service coverage ratio
| | | |
| --- | --- | --- |
| Rental income | Full payment | DSCR |
| $1,800 | $1,500 | 1.20 |
| $2,000 | $1,500 | 1.33 |
How a lower payment can improve DSCR
| | | |
| --- | --- | --- |
| Rental income | Full payment | DSCR |
| $1,800 | $1,500 | 1.20 |
| $1,800 | $1,300 | 1.38 |
The higher the DSCR, the greater your chances of approval. DSCR lenders love to see a very high debt coverage ratio because it means you'll simply use the property's income to make the payment and any unforeseen expenses.
If your DSCR is too low, see if you can make a larger down payment, find a lender with a lower mortgage rate, buy a home with low or no HOA dues, or see if the current tenant is paying below-market rent. Any improvement in these factors could raise your DSCR and help you get approved.
Check your California DSCR eligibility.
What is the minimum DSCR to qualify in California?
Most lenders are looking for a DSCR of 1.25, but there are many exceptions. While 1.25 is the "gold standard" when it comes to debt service coverage ratio, many lenders allow a ratio down to 1.0 or 0.75, or waive the requirement completely.
However, if the property loses money or just breaks even, you may need a larger down payment, higher credit scores, pay higher rates, or prove personal income.
In many areas of California, it will be harder to meet required DSCR levels. This is normal in high-value states. Often, rents don't keep up with home prices. There could be a $1 million home that rents for $2,000 per month, which doesn't cover the payment.
That's why it's important to keep analyzing deals. Find distressed sellers, or homes that need minor repairs.
DSCR lenders allow short-term rentals, which could increase rent potential. California investors don't need to be told that many cities in the state are in high demand on Airbnb and other short-term rental platforms.
How to qualify for a DSCR loan in California
Qualifying for a California DSCR loan is not difficult when you have the right property and meet other requirements. Here are general things lenders are looking for.
Loan-to-value (LTV): Maximum loan to value is typically 75-80%. For a purchase, this is the same as saying you need a 20-25% down payment. For a refinance, you have to have 20-25% equity.
Credit score: Most lenders require 640, but some will allow 620.
Loan purpose: Purchase a property, refinance (for instance, you could refinance out of a hard money loan), or cash-out refinance.
Property types allowed: Single-family residence, multi-family 2-4 unit homes, condos, non-warrantable condos, townhomes, and more. These loans also work for commercial properties, such as 5+ unit apartment complexes and office buildings, although the DSCR calculation is different than for residential.
Property use: Investment properties only; no primary residences. Short-term rentals accepted.
Loan type: 30-year fixed, adjustable rate, and interest only loans.
Income and employment, debt-to-income ratio: No personal income or DTI verification is required.
Maximum loan amount: Typically $1-2 million, but some lenders go up to $5 million or more.
Maximum properties owned: There's no limit to the number of owned or financed properties.
Prepayment penalties: Many DSCR loans come with prepay penalties. Make sure you intend to keep the home and mortgage until the penalty time period expires.
Closing in the name of an LLC: This is allowed.
Seller paid closing costs: Typically allowed up to a certain percentage of the home price.
See if you qualify for a DSCR loan. Start here.
DSCR mortgage rates California
California DSCR mortgage rates are usually 1-2% higher than for traditional Fannie Mae and Freddie Mac loans.
Higher rates are not because the property is in California. DSCR loans come with higher rates in any state. First, they are investment property loans, which lenders view as riskier. Second, lenders can't count on your personal income in case the property fails to generate revenue.
These risk factors make DSCR loan rates higher, but the benefits typically outweigh the costs for investors.
5 best areas to invest in California
According to a recent Mashvisor study, here are the top five Golden State cities for both traditional and short-term rental properties.
Best California cities for long-term rentals
| | | | |
| --- | --- | --- | --- |
| City | Cash-on-cash return | Median price | Rent |
| Thermal | 4.93% | $424,170 | $1,812 |
| Thousand Palms | 6.88% | $187,155 | $1,586 |
| Avenal | 4.93% | $210,563 | $1,418 |
| Coalinga | 4.75% | $406,489 | $2,208 |
| Alturas | 7.62% | $337,583 | $3,152 |
Best California cities for short-term rentals
| | | | |
| --- | --- | --- | --- |
| City | Cash-on-cash return | Median price | Rent |
| Santa Maria | 6.59% | $649,411 | $5,904 |
| Madera | 7.19% | $442,378 | $5,577 |
| Orangevale | 8.68% | $522,167 | $6,454 |
| Porterville | 7.79% | $345,295 | $3,671 |
| Spring Valley | 7.05% | $625,191 | $6,618 |
Keep in mind, though, that no study can tell you the best place to invest. An area you know well is likely a better place to buy than one with good average prices and rents.
5 tips for real estate investors in California
Being a tenant-friendly state, owning rental property in California comes with extra regulations.
1. Know the law. California has state-wide tenant protection laws, for instance, rent control that caps increases to 5% plus inflation, or 10% total, whichever is lower. Additional local laws may apply. Remember that certain laws can keep you from reaching needed DSCR levels.
2. Consider property management. Speaking of laws and regulations, professional property management companies are experts at following local and state regulations. It can be hard to keep up as a someone who self-manages. It could be worth hiring a professional to make sure you're compliant as a landlord, plus they take care of other burdens like finding tenants and handling repairs.
3. Invest in one area. Diversification is a key to general investing, but perhaps not when it comes to real estate. If you have three rentals in three markets, you've tripled your workload for researching home prices and rents, finding contractors, and more. Stick to one area and become an expert.
4. Build your local team. Another advantage of investing in one area is that you'll have a go-to team as you acquire more properties. Your realtor, contractors, property management company, and more can help you on multiple properties. You won't have to find professionals in each new area.
5. Watch HOA dues. Homeowners associations are common in California. They can really eat into your cash flow and therefore lower your DSCR. Some properties are a great deal on the surface, but then you discover that HOA dues are through the roof. Look for properties with reasonable dues and pass on ones with high dues for the area.
FAQ
Do DSCR loans require a down payment?
Yes, you will need 20-25% down for a DSCR loan.
How do I qualify for a DSCR loan?
Find a property that generates 25% more income than its full principal, interest, taxes, insurance, and HOA dues combined. Such a home would have a DSCR of 1.25. Most lenders do not require personal income verification at this ratio. Then, meet credit score, down payment, and other requirements.
Do lenders offer DSCR loans in California?
Yes, there are many options when it comes to California DSCR lenders. Shop around for the best rates and terms for your DSCR loan. Submit your scenario here.
How do DSCR loans work?
DSCR lenders waive personal income documentation requirements when a property's monthly income is at least 25% higher than its all-in payment (some lenders allow a lower debt coverage ratio). This allows investors who meet other requirements to build their real estate portfolio without supplying tax returns or other income verification documents.
Is a DSCR loan right for you?
For the right investor, the DSCR program could be a massive portfolio booster. Instead of using personal income to qualify for house after house, each home proves itself a good bet for the lender.
Supercharge your California real estate portfolio with this unique and powerful program.
Apply for your California DSCR loan.