A bank statement loan is a fantastic tool to acquire property without using tax returns to qualify.
But many homebuyers and real estate investors wonder: are bank statement loan interest rates high?
They are higher than standard mortgage rates, but not as high as you might think, considering you can qualify using 12-24 months of bank statements instead of tax returns.
See how much you qualify for with a bank statement loan.
What's in this article?
What are bank statement loan interest rates today?
As of March 2023, bank statement loan rates were approximately 2.2% higher than conventional loan rates.
| | |
| --- | --- |
| Conventional rates 3/3/23* | Bank statement loan rate survey 3/3/2023** |
| 6.65% | 8.75% |
*As reported by Freddie Mac's Rate Survey. **See below for details
Get a quote from our featured lender, NASB. Up to $1.25M with no tax returns (Sponsored Link)
Methodology
To get a good sense of current bank statement loan rates today, we looked at three prominent lenders, priced out a scenario, and averaged the rates that we found.
Note that your rate might be very different depending on your scenario. A lower loan-to-value, past credit event, or another factor could easily push your rate up by 1% or more.
Here is the general criteria we used to price out the loan:
20% down owner-occupied purchase
30-year fixed, fully amortizing
720 score
24 months business bank statements
DTI <45
$500,000 loan amount
US citizen
30-day lock
Escrows not waived
No mortgage late payments, bankruptcies, foreclosures
Par rate (all lender compensation paid by the borrower)
Prepay penalty possible
Also, for the above survey rate, we assumed that the borrower pays 1-2 points upfront (1-2% of the loan amount). Points might not be required for the conventional rate, depending on the lender.
As you can see, many factors go into determining any mortgage rate. If just one element is different than the above for your scenario, your rate could be very different.
To get the best bank statement loan possible, submit your scenario to a top bank statement loan lender and get a personalized rate quote.
Submit your scenario.
Paying points
Most bank statement loan lenders will charge points upfront.
Conventional, FHA, and other loan types allow the lender or broker to get paid "on the back end." This means they get paid by delivering the closed loan to an end investor.
Bank statement loans are different, though. Usually, they are retained in the lender's portfolio. Or, the company you work with is a broker, and they send the loan to a company that doesn't offer broker compensation.
Without getting into too much detail, this means that you have to pay your lender or broker upfront. Expect to pay 1-2 points along with other closing costs and your down payment at closing.
Start your bank statement loan rate quote here.
Leading bank statement loan lender
12 & 24 month programs
Loans to $1.25 million
680 score with 15% down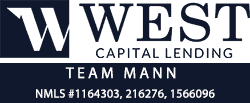 Bank Statement and No-Doc programs
Purchase, Refi, 2nd Mortgage
1+ yr self-employed and 1099 only
No tax returns; 10% down options

AL, AZ, CA, CO, FL, HI, ID, IA, KS, ME, MI, NH, ND, OR, TN, TX, UT, WA
How to get lower rates
Here are elements that will help keep your bank statement loan rate as low as possible.
Accept a prepay penalty
Credit score 720-740 or higher
Primary residence over a second home or investment property
Loan amounts lower than $1 million
Standard single-family home over a condo, non-warrantable condo, or 2-4 unit property
Taxes and insurance collected with the payment
Fully amortized loan over interest-only
Choose an adjustable rate over fixed
Low debt-to-income ratio
Larger down payment
Pay points upfront
24 months bank statements instead of 12
Shop lenders
Strategy: Secure the home then refinance later
There is a popular strategy when getting a bank statement loan, DSCR loan, or any no-tax-return mortgage.
This is to secure the home using alt-doc financing, then refinancing into a full-doc conventional loan later.
That way, you build equity while you work on raising your adjusted gross income on your tax returns.
But if you're in a profession where you will always have big write-offs, you can still use this strategy.
Rates fluctuate by the day. When rates drop enough, refinance into another bank statement loan or another loan type that you qualify for.
One caveat, though: make sure your prepayment penalty has fallen off your loan when you refinance. Otherwise, you could be on the hook for thousands of dollars, negating any savings from a refinance.
Learn more about alternative lending solutions.
What's the monthly payment for a bank statement loan?
Mortgage rates often get outsized attention. But what's really important is the monthly payment. Can you afford it or not?
If you can afford the payment, it doesn't really matter what the interest rate is.
| | | |
| --- | --- | --- |
| | Conventional | Bank statement loan |
| Home Price | $500,000 | $500,000 |
| Down payment | 20% | 20% |
| Mortgage rate | 6.65% | 8.75% |
| Principal & Interest | $2,568 | $3,147 |
| Tax, insurance, HOA | $500 | $500 |
| Total payment | $3,068 | $3,647 |
Example purposes only. Get a quote for personalized costs.
Though the bank statement loan rate is about 2% higher than conventional, the payment increases by just $600. The difference is not insignificant, but not astronomical, either.
As your income increases, and with some budgeting, buying a home with a bank statement loan could be more attainable than you think.
Compare your conventional and bank statement loan scenarios with this calculator.
Bank statement loan mortgage rates FAQ
Are bank statement loan rates high?
Bank statement loan interest rates were 2.2% higher than the Freddie Mac rate average according to a My Perfect Mortgage survey of bank statement loan lenders on March 2, 2023. Mortgage rates for bank statement loans can be 1-3% higher than conventional loan rates depending on occupancy, down payment, credit score, and other factors.
How do you get lower bank statement loan rates?
To get lower bank statement loan rates, submit the strongest file possible: large down payment, high credit score, no mortgage late payments, and no NSFs on your bank statements. You can also pay points to lower your rate.
How many months of bank statements are required for bank statement loans?
Most lenders offer 12- or 24-month bank statement loans. To receive a better rate, submit 24 months.
Get your bank statement loan rate quote
Securing the right home is the important thing, not the interest rate. Interest rates change, and you can likely capture a lower one in the future.
But the perfect house could be harder to replace.
Check today's bank statement loan rates.